Click here to join us for our Sunday Morning Worship Service at 10:45am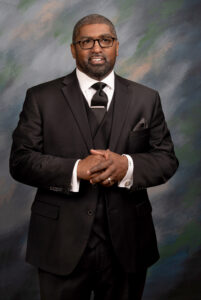 I greet you in the name of our Lord Jesus.
Let me take this precious moment to thank our heavenly Father for allowing us to meet here. We count it an honor to see a year end and another come simply because of the mercies of the Lord. We are here to ask our loving God to take charge of our lives in the coming year.
I pray that 2023 will be a year for 'next level preparation'. You may be carrying within you a gift, ability, calling, vocation, or aspiration that you believe will catapult your life forward. If that's you, you need not worry about how God will manifest that which is within you. Focus however on pushing yourself intently to a greater level of preparation.
I pray that 2023 will be a year for 'increased discipleship'. Make this a year that you will make a personal commitment to God to magnify your walk with Him through a greater commitment to Christian service, bible study, ministry participation, personal witness, and stewardship. We often want more out of God without giving Him more of us.
Our God remains sovereign, and he is the God of new beginnings. Let's begin our new year with renewed hope and prayer.
We enter His gates with thanksgiving and praise, we come into God's presence with gladness, because you are the God hope. It's in Him that we live, move, and have our being.
Yours in Christ,
Reverend Shelton W. Scott, Senior Pastor
Join us for our worship service Sunday at 10:45am in person or via stream.
Bible Tabernacle Christian Center
"Where the Word of God is changing lives"