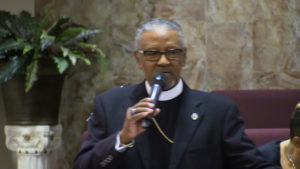 Bishop Carl H. Scott was born in York, Pennsylvania. He is the son of the late Herbert and Phoebe Scott and comes from a family of ten children.
Bishop Scott attended York City Schools and graduated from the William Penn Senior High School. He has been happily married to Diane A. Harris, with whom he celebrated 61 years of marriage in September of 2017. They have six children, 18 grandchildren and 19 great-grandchildren.
In 1976 he was licensed to the Gospel ministry by the Bethlehem Baptist Church of York. In May 1977 he and his wife, Diane, founded the Bible Tabernacle Church. He attended Lancaster Bible College from 1976 to 1979. He has attended the Hampton University Ministers Conference for the last 39 years. He was ordained to the Gospel ministry in August of 1977 at the Fortieth Street Church of God International in Philadelphia, Pennsylvania by the late Bishop Horace Hawes. He was credentialed with the Christian and Missionary Alliance National Church Ministries from 1983 to 2007.
Bishop Scott was employed for sixteen years as Manager of Computer Operations for AMF Incorporated (now Harley Davidson) in York, Pennsylvania until he resigned in 1979 to go into full time ministry.
Bishop Carl Scott has served our York community in various capacities over his many years of service:
*Past President of The Black Ministers Association of York, two and a half terms.
*Founding Secretary of The Black Ministers Association of York
*Co-Founder and Co-Captain of The York City Police Chaplain's Corps Retired in 2003 after serving 20 years
*Member of the search committee to found Logos Academy (An urban Christian School in York).
*Director of the Bible Tabernacle Youth Development Drop-In Center
*Pass Member of the board of directors of The Fatherhood Workshop of York
In addition to his role as pastor of The Bible Tabernacle Christian Center of York, he presently serves:
*Member of The Black Ministers Association of York, where he serves a Senior Advisor
*Chairman of the Civil Service Commissioners for the York Area Regional Police Department
Bishop Scott has received several awards for service to his church and community, including:
*The Commonwealth of Pennsylvania Governor's Award for Crime Prevention
*The Liberty Bell Award, presented by the York County Bar Association
*The Community Service Award, from Stepping Stone (a drug and alcohol counseling organization)
*Eugene Blum Ecumenical Award for Community service from the York County Council of Churches
*The "Bronze" Good Citizenship Award from the Sons of the American Revolution
*The 2001 Human Services Award from The Black Ministers Association of York
Bishop Carl Scott received an honorary Doctor of Divinity Degree from St. Thomas Christian University Jacksonville Florida on February 24, 2013.
He has led a number of building projects to the mission fields in Liberia, West Africa; Burkina Faso, West Africa; and visited mission works in Cote d'Ivoire, West Africa; and Paris, France.
Bishop Carl Scott served as senior pastor of the Bible Tabernacle Christian Center for over 40 years. Bishop Scott installed his son Reverend Shelton W. Scott to the office of senior pastor in August 2021 He is regarded in the York area as the father of many pastors and as someone who is respected and admired for his dedication to this community and to ministry.