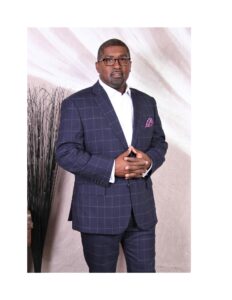 Reverend Shelton W. Scott Sr. is a native of York Pa. He is the son of Bishop Carl and Lady Diane Scott.
Shelton also known as "Shelby" to all of his family and friends was brought up in the fear and admonition of the Lord. He received salvation and was baptized at an early age under the ministry of His father, Bishop Carl H. Scott. His father was very instrumental in his life but he also credits his mother for the battles she fought in prayer over his life.
As a young teenager he began playing the piano and assisting the Minster of Music, and later became the Minister of Music. He faithfully served as Minister of Music for the Bible Tabernacle Christian Center for 29 years under the leadership of his father Bishop Carl H. Scott, DD
While serving as Minister of Music, Shelby also began teaching the adult Sunday school and bible classes. It was through teaching that he developed a love for studying and teaching God's Word. Shelby continued to grow spiritually and from there he heard and accepted the call to preach. He began preaching in 1998 and was licensed to the Gospel ministry in December of 2006.
He successfully completed a three year Compendium of Pastoral Theology with the Christian Missionary Alliance. He later attended the Baltimore School of the Bible and studied biblical theology at Lancaster Bible College.
He was ordained in June of 2011 by his birth and spiritual father, Bishop Carl H Scott. He has served faithfully under his father and Pastor as the Minister of Music, bible study teacher, ministry leader, worship leader, organizer and preacher. Rev. Scott along with his wife Lady Tanisha also partnered as youth ministry and marriage ministry leaders.
Bishop Carl H. Scott states, "I firmly believe that Rev. Shelby is God's man for this season and time to lead BTCC to the next level".
Rev Shelby's profession and passion for 33 years was his skill for custom wood working, custom carpentry and building. He struggled with leaving his place of skill and security to follow God's call on his life, but heard God clearly say, "I'm only changing the tools you will use, but I need you to Keep on Building". He said, "Form good foundations, be deliberate about the details and Keep on Building".
He remains humbled as he rests on 1 Timothy 1:12 NLT
"I thank Christ Jesus our Lord, who has given me strength to do his work. He considered me trustworthy and appointed me to serve him"
He has faithfully served church and community in various capacities. He served as Minister of Music for the Black Ministers Association of York and led a one hundred voice choir to a concert at the Strand Capitol Theater of Performing Arts. He served on the Human Relations Committee for the City of York and was a Board member for Historic York Inc. He is currently a Property Maintenance Inspector and a Building Code Official for the City Of York.
He is the husband of over 30 years to the Love of his life, Tanisha Scott, and together they have three sons, Shelton Wade II, Isaac Javan and Elijah David.